Authentic Spaghetti Alla Carbonara – recipe from an Italian nonna
Get transported to Rome with this traditional recipe for one of the most loved Italian dishes

.


Learn how to cook, style and shoot a beautiful plate of Carbonara

as the Romans do

.
Have you ever tasted silky Carbonara with crispy guanciale and pungent pecorino?
Do you want to cook authentic Spaghetti Alla Carbonara like a true Italian nonna?

I'm talking about the traditional, true Carbonara just like we make it in Rome.
No cream or garlic, please.

When the flavour explodes in your mouth, you can savour all your most indulgent dreams coming true.
It's a dish for the adventurous palates – rich, (ooh so rich) and salty, and peppery, and delicious.

Get transported to Rome and have lunch by the Colosseum today.

And don't forget to photograph your creation!
Keep reading for my photography and styling tips.
Ready? Let's go!
1. Where does this Carbonara recipe come from?
2. What ingredients go in the traditional pasta alla Carbonara?
3. How do I cook Carbonara like a real Roman?
4. Authentic Spaghetti Alla Carbonara Recipe
5. How to photograph your Spaghetti Alla Carbonara like a pro?
6. Food styling tips for Spaghetti Alla Carbonara
7. Where are the best spots to eat pasta alla Carbonara?
Where does this Carbonara recipe come from?
My dad's family is from Rome and we've been cooking this recipe forever.

My nonna was a proud Roman and passed her secrets to making the tastiest traditional Carbonara onto us.
My dad improved it by adding a ton of cheese and pepper – much to mine and my bro's enjoyment.

I cooked this version in London when a friend was visiting.
He is a massive foodie and I promised to blow his mind, so we went to Borough Market to source the best ingredients.
While there, we also stuffed our faces with all the street food we could find, but that's a story for another time.

Cooking it and photographing it together back at home was really fun, and it gave me the opportunity to show off my pasta tossing skills.

Maybe it was thanks to the pressure from performance anxiety, but OMG that must've been the best Carbonara I've ever made. Yet.

And it's such a beautiful dish that you won't resist photographing it!
What ingredients go in the traditional pasta alla Carbonara?
Surprisingly, to achieve all the tastiness in this dish you only need 5 ingredients:
Pasta, guanciale, Pecorino Romano, eggs, black pepper.
That's it!

Now, you might have seen "Carbonara" recipes featuring garlic, cream, mushrooms and all sorts of other ingredients.
The Romans cringe at the sight of these.
I'm not saying that these versions are not delicious, it's just that they are not Carbonara.

Let me introduce you to the traditional ingredients first, and then I'll share tips on how you can substitute these for easier-to-find alternatives.

I promise you won't regret putting some effort into finding the right ingredients.
1: Spaghetti
Traditionally, Carbonara can be prepared with spaghetti or rigatoni – this is entirely up to you!
Some people prefer spaghetti because they are thinner and soak up more of the silky egg sauce.
Others prefer rigatoni, their shape allows the sauce and pieces of crunchy guanciale to get inside.
I go for rigatoni when I feel extra adventurous.
It looks like you picked up just a forkful of sauceless pasta, but the inside might be hiding a delicious crispy surprise that unexpectedly explodes in your mouth.
Oh, that delightful thrill.
2: Guanciale
Guanciale is fatty pork cheek cured in black pepper and spices, and a key element in Carbonara.
The fat melts and combines with water and egg to give the distinctive silky texture to the sauce.
As well as an explosion of flavour and texture!
When fried, it gets crunchy on the outside and stays chewy on the inside providing a killer combo of textures.

You can find this cut in Italian delis and charcuterie shops – or you can ask any of the Italians in your town where they get theirs!
You can also try delis online, a quick Google search should do based on where you live.
What can I use in place of guanciale?
The best substitute for guanciale is pancetta in cubes, unsmoked cured bacon.

Another alternative is fatty bacon lardons. The fattier the better!
Lean bacon is not suitable for Carbonara – the fat is essential to create the creaminess and silkiness of the final sauce.

You can also try lardo and cured pork jowl.
Go with the fattier cured cuts for best results!
3: Pecorino Romano
One of the oldest Italian cheeses, pecorino Romano is matured hard cheese made with sheep milk.
Its taste is very sharp, tangy, super salty and umami, and Romans grate it on just about anything.
We love it so much that we made a pasta sauce with only pecorino and black pepper.
Cacio e pepe, another one of my favourites.

Some of the larger supermarkets stock it but try your local cheese specialist or Italian deli for the best quality.
What can I use in place of Pecorino Romano?
The easiest alternative is Parmigiano Reggiano, which you can find just about anywhere nowadays.
The main difference is that Parmigiano is milder and has a nuttier flavour, so add a bit more to your recipe to achieve a cheesier taste.
4: Eggs
It's important that eggs are super fresh and you can use both whole medium eggs or just the yolks from large eggs.
I personally prefer using the whole egg – it turns into more of that delicious sauce and there's no waste.
Go for organic and free-range eggs. This gives you the best taste and richness.
It's also great for food styling as it will give your dish a velvety golden look. It looks lush and shiny.
5: Black pepper
For this recipe, I recommend grinding your black peppercorns fresh – this way you get the best and most pungent flavour.
I like to grind my peppercorns in a pestle and mortar to a coarse powder.
That gives you a crunchy consistency and pops of flavours exploding in your mouth!
It will also add texture and interest to your styling!
How do I cook Carbonara like a real Roman?
Let's see how we combine all of these wonderful ingredients into a mind-blowing dish!

Here are the top 5 tips for a successful, silky, velvety, rich Carbonara:
Fat is your best friend: it is the secret to the rich flavour and silky texture of the sauce.
No fat equals bland sauce. Yuck.
Whisk that egg properly: you want your eggs to be thoroughly smooth and beaten.
And then you want to mix that cheese and pepper really well.
This ensures the velvety and uniform texture.
Add water: wait, close that tap! We want the starchy pasta water.
The starch and fat combined together are responsible for the consistency of your sauce.
You wouldn't want lumpy pasta, would you?
Heat off! We're not making scrambled eggs today.
Take your pan off the heat before adding your egg.
The residual heat from the pasta is enough to cook the eggs to perfection.
Toss that baby! Carbonara is perfect for showing off your cheffy toss moves!
It's important to continuously stir your pasta as you slowly add the egg.
This way it cooks more evenly and has a chance to set without overcooking.
Now that we have all the ingredients, all the knowledge, and all the insider tips, let's cook this!
Find my photography and styling tips after the recipe 🙂
Authentic Spaghetti Alla Carbonara
20 mins, 2 portions
Ingredients:
200g spaghetti
100g guanciale
50g pecorino Romano
3 fresh medium eggs, room temperature
Heaps of black pepper (don't be shy)
Instructions:
Put a large pot of water to boil on high heat.
Grate your pecorino Romano on a plate.
Put your black peppercorns in a pestle and mortar and smash them to coarse ground.
Don't have a pestle and mortar? You can also chop them with a knife.
Meanwhile, cut your guanciale in chunky 1 cm cubes or stubby strips.
Heat a frying pan over medium heat and add the guanciale cubes to it.
Don't add any other fat, just let it melt slowly and enjoy the process.
Fry the guanciale gently for about 15 minutes, until the fat is translucent and crispy, but still chewy.
Go ahead, try a piece and have your mind blown.
While the guanciale is frying nicely, your water will come to a rolling boil.
Salt the water, give it a stir and add your spaghetti to the pot.
Submerge the whole length of the spaghetti so they can cook evenly.
Cook according to the time on the pack, but taste a strain or two as it cooks. You want that baby al dente.
You've got your pasta boiling, your guanciale frying – exciting things are happening.
It's time to prepare the egg mixture.
Crack the eggs in a small bowl and beat them like you mean it.
You want the yolk and white to mix evenly and smoothly.
Add the pecorino and whisk well.
Add the ground pepper and mix thoroughly. We're looking for a pancake batter-like consistency.
When the guanciale is ready, add a couple of tablespoons of pasta water to it, stir well and let it bubble and thicken for a few seconds. At this point, the spaghetti should be ready.
Turn off the heat and remove the pan with the guanciale from the stove.
Take the spaghetti out of the water with tongs and add them to the pan with the guanciale.
Toss it really well to coat the spaghetti in the starchy fat. Don't drain the pasta water just yet!
Keep tossing and mixing the pasta as you slowly add the egg and pecorino mixture.
Toss, toss, toss – get your arm workout for the day.
If the sauce is too thick, add a couple of tablespoons of pasta water and keep tossing.
What you end up with is a silky, creamy, smooth spaghetti sauce.
Plate the spaghetti, grate some pecorino on top and add a generous sprinkle of pepper to decorate.
Snap it quickly before you eat it!
Buon appetito 🙂
How to photograph your Spaghetti Alla Carbonara like a pro?
I know you'll want to eat them straight away, I feel ya and you're right!
That's how this dish should be enjoyed.

BUT, we do want to capture its beauty and speed is the main challenge when photographing Spaghetti Alla Carbonara.
You need to have your camera and set up ready and shoot it pronto!

That silky smooth sauce won't last for long, it will lose the shine as well as the texture if it sits for too long.
And we don't want to eat cold, gloopy Carbonara, do we?

So, before you even begin to cook it, grab your camera and get a quick set up ready:
Find the best light spot – if you're in your home, you should be familiar with where that is.
If not, don't worry! I wrote tips on how to improvise a food shoot wherever you are.
Choose the plate and props you're going to use for your pasta beforehand.
Grab any additional props you want to use in your image like cutlery, napkins etc.
In the images I shot at home, I used a super simple set up with just my plate and fork on a table.
Place all the elements in your light spot and create a setup. Frame it with your mind, and move around with your camera to look for the best angles and compositions. Take a mental note of what frames work so you're ready later.
When I shoot for my clients, I take some time to set up my composition beforehand, while the chef is preparing the dish.
Check your settings – set your aperture first. If you're shooting without a tripod, set your shutter speed at the right speed to avoid camera shake, then set your ISO accordingly to achieve the exposure you want.
So, now you have your set up ready, you know how you want to frame your image, and what camera settings you need. Great!
Time to cook and plate our spaghetti – read my food styling tips below!
As soon as you're happy with your subject, place it onto your set up and start shooting away!
Frame the image like you practised, but also move around with your camera, see how your subject reacts to light and let your creativity free!
Shoot it for 2 minutes max. No cheating.
Put your camera down, pick up your fork and go for a pasta pull!
One last snap before enjoying a delicious (and still hot) plate of Carbonara!
Food styling tips for Spaghetti Alla Carbonara
Let's be honest, this pasta looks lovely regardless of how you plate it.
However, here are some top tips you can follow to make spaghetti alla Carbonara look its best!
Use a fork and a spoon to roll the spaghetti on itself and create a nest shape.
Place the nest in the centre of the plate.
Depending on the size of your plate, you might want to create a few rolls and place them on top of each other.
Make a nice, round and even heap.
With a fork, tweezers, or your fingers (bonus: you can lick them after) arrange a few pieces of guanciale on top.
Make sure they are visible all around your plate, naturally surrounded by the spaghetti.
Sprinkle some pecorino on top – the key is to use only a little!
When styling with grated cheese, less is more.
You don't want to hide your beautiful pasta and garnish under a layer of white stuff.
For the final touch, sprinkle some coarsely ground peppercorns on top to add texture and interest.
You don't want fine powder as that can look like dirt and lose the appetite appeal.
Don't forget your pasta pull! Grab a forkful of spaghetti, roll them slightly on your fork and lift!
Arrange some guanciale on top for an extra yum factor.
Where are the best spots to eat pasta alla Carbonara?
Well, my house, obviously.
You're always welcome for a plate of Carbonara at Jules'!

If you're willing to travel (and I recommend you do), to get your hands on the tastiest and most authentic Carbonaras you have to go to Rome.

And to have Carbonara as the Romans do, one of the must-go places is L'Arcangelo.
The Chef, Arcangelo Dandini, is renowned for this dish and when you go there, you'll understand why.
Stuff your face first and thank me later!

Having lived in London for many years, I had to find some delicious Carbonaras on this side of the Channel.
It's a matter of survival, you see.

My favouritestest place for Italian food in London is La Mia Mamma
They "import" real mums from Italy and the atmosphere there is so magical that it feels like you're in a proper Italian trattoria.
They have a killer Cacio e Pepe too!
Actually, order everything – in the name of experimentation.

If you find yourself on the East side of London, check out Emilia's Pasta Their spot in St Kat Docs has tables al fresco overlooking the harbour for a proper dolce vita feeling!
Aaand if all that isn't enough to satisfy your Carbonara cravings, you can eat it in all its glorious variations in one place on Carbonara day!
Many talented chefs prepare their version for the joy of all keen Carbonara lovers.
The portions are generous and the smiles are wide.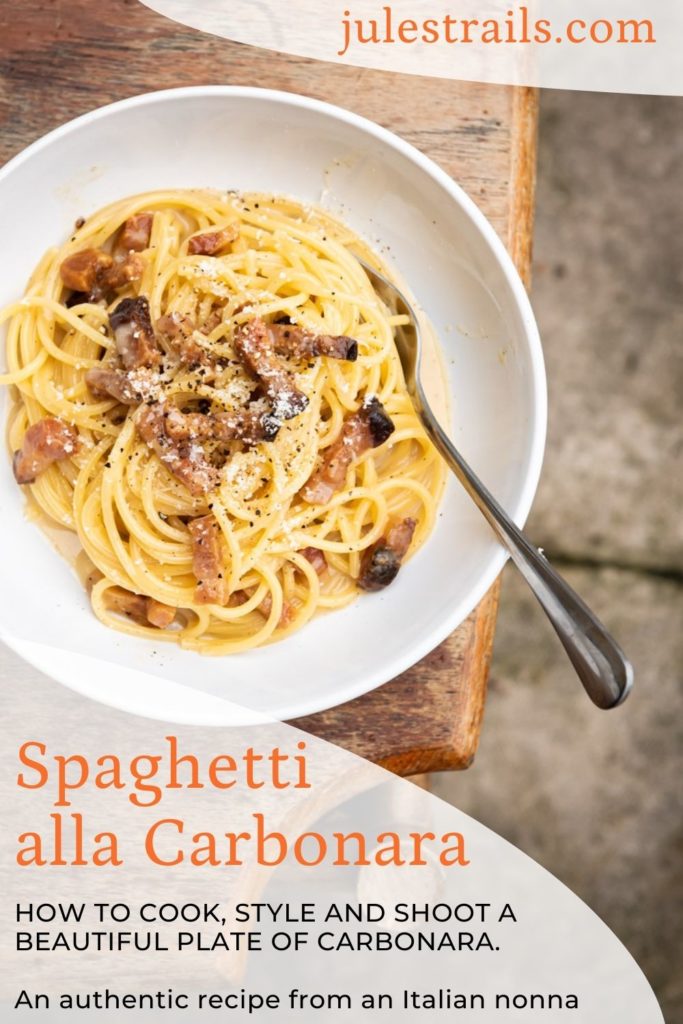 Loved this article?
Pin it for later!
Did you make and photograph this spaghetti alla Carbonara recipe?
Let me know how the recipe turned out and show us the pictures you took!
If you have any questions pop them in the comments – I'm always happy to answer and chat food and photography!