Tailored photography mentoring and coaching
Are you stuck in your photography journey?
Have you studied hundreds of resources and ebooks but you're still struggling to reach the level you want with your photography?
Do you want to take your skills to the next level and start earning money doing what you love?

I'm here to help you achieve your food and travel photography goals with a bang!

No matter your experience or skill level, having a coach is the fastest and easiest way to grow.
The right mentor can greatly speed up your development, give valuable feedback and take the guesswork out of the process!

Book your sessions now! I'm excited to meet you!
Let's check out the details:
1. Who is this food and travel photography mentorship for?
Anyone who wants to improve their food and travel photography skills!

Food bloggers, travel bloggers, chefs and restaurant owners, food and travel brands, travel agents, content creators, amateur and professional photographers…
If you want your photos to stand out, amaze your viewers and help your business thrive, this program is for YOU 🙂
2. How will this mentorship help me achieve my photography goals?
These are 1 on 1 sessions tailored to you and your needs.
This is not a generalised "one-size-fits-all" photography course.

You are unique, your learning style is unique and we're going to customise the program to suit your needs.
You will receive personalised feedback, so you can build on your strengths and work on the areas that require improvement.

By focusing on the challenges you are facing and addressing your questions and doubts, you'll be able to achieve your photography goals faster and more efficiently!
3. What photography topics and techniques can we cover together?
That's the beauty of it – we can talk about anything you need and you can ask all the burning questions you have!
Some of the topics we can cover are:
Feedback on your work
Light
Composition
Editing and post-production
Visual storytelling
Camera settings and manual mode
Finding your style
Smartphone photography
Food styling
Gear and equipment
Optimising your workflow
Portfolio building and review
Photography business
Getting clients
Pricing and estimating for jobs
4. How does this mentorship program work?
How is it organised?
Each 1 on 1 mentoring session is a 60-minute Zoom video call.

Schedule a free 15-minute call with me to discuss your challenges and where you are in your photography journey.
You can ask me any questions you have about the mentorship program so you have all the info to decide if it's right for you.
I can also advise on what package is best to start with.
Before our session:
Have a look at the best package for you.
Fill out the form and book your sessions.
Choose the date and time for your first session.
When our session is confirmed, I'll send you a Zoom link.
Send me the images that you want me to review.
During our session:
We'll start by commenting on your images, I'll give you feedback on what works and what needs improvement.
We'll cover any topic of your choice, you'll be able to ask all your questions and I won't hold any information back.
You might wanna have some paper handy to take notes!
After our session:
You'll receive an email with a recap of our session.
I will include actionable steps and exercises for you to immediately practice and improve your photography skills.
I will include links and other resources for you to learn more and dig even deeper into the topic.
5. Am I the right mentor for you? My background as a professional photographer and teacher
I started taking photos when I was 8 on my film camera, and have been a professional photographer for 10 years!
I've worked on projects big and small with amazing clients such as National Geographic Traveller and Tesco.

I've been crafting my photography skills for a long time so I know the struggles and challenges photographers face on their journey.
I've been there!

I also have a background in teaching children and adults with learning disabilities.
I can adapt my coaching style to suit YOUR learning style so you can learn faster and with less effort!

I am very passionate about sharing knowledge and committed to helping you unleash your full potential.
Expect to work with someone enthusiastic who will always push you to overcome your limitations, flourish and succeed!

Schedule a free introductory chat with me to see if we vibe!
I'm sure we'll love working and growing together 🙂
6. Testimonials from awesome students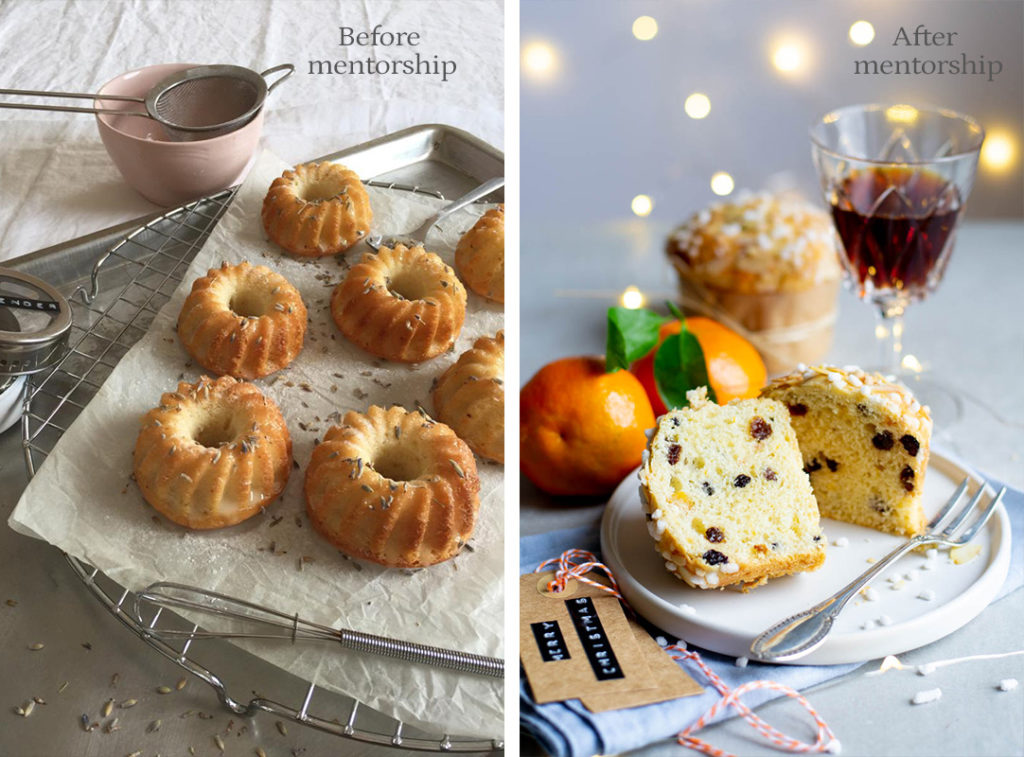 "When I started taking classes with Giulia, I could hardly handle a DSLR camera. She taught me the staples of food photography and gave me the tools to keep practising on my own. She has always been supportive and encouraging, besides teaching me a lot of food styling tricks. I definitely recommend Giulia to anyone who wants to approach food photography in a more competent way."
Valeria – food blogger and baking rockstar thesweetbit.com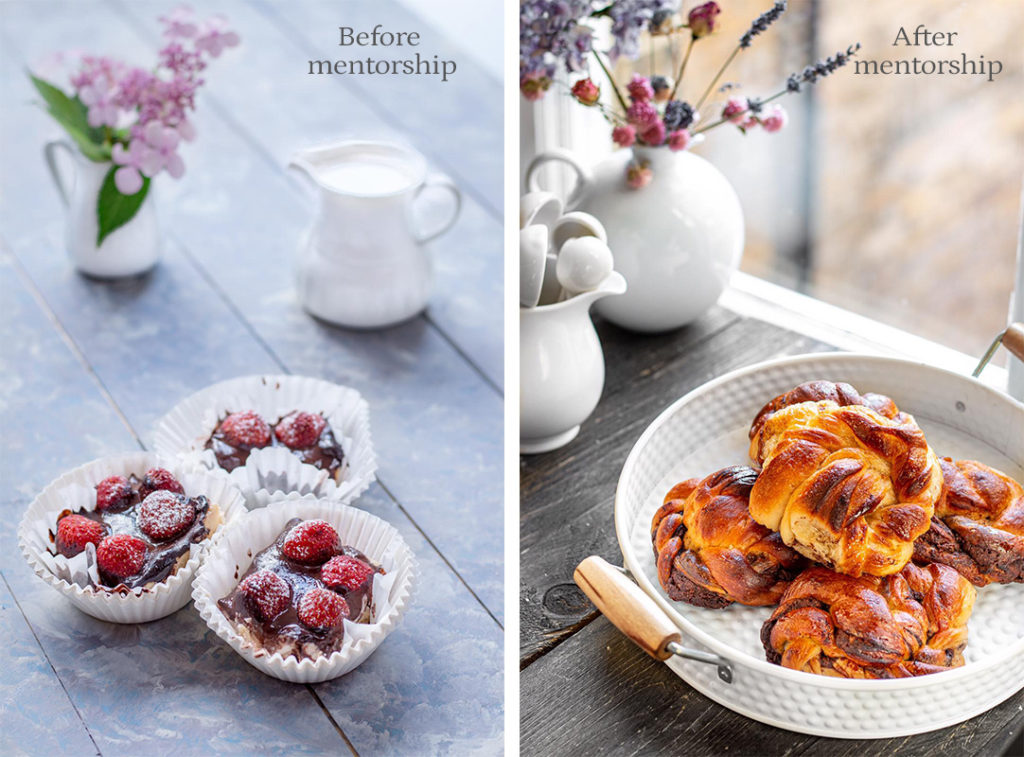 "I met Giulia a few years ago when I was at the beginning of my food blog project. With her I started an extraordinary journey through the food photography world, focusing on several topics: from composition to natural and artificial light studies. Through Giulia, I've learned how the different photography moods, high key and low key, impact the final result of a picture. She taught me how to set up a photoshoot, select props and take shots in tethering mode. Moreover, we played around with post-production and editing through lightroom and photoshop. She is a professional, skilled and qualified photographer but also an engaging and exciting person."
Antonella – she cooks and delivers the flavours of Sicily around London mintonmymind.co.uk
7. How much do I need to invest in my photography mentorship?
Signing up for a photography mentorship is an investment in yourself!
Check out the different packages I offer and see which one is right for you.
8. How do I book my sessions?
How exciting! So happy you're ready to take your photography skills to the next level!

To book your sessions, fill out the form below and get in touch!
You'll receive an email with all the next steps to schedule your session at a date and time that is convenient for you.

I'm looking forward to meeting you 🙂